How to Connect a Reverse Switch to Control a 3 Phase Motor?
Mon, Apr 04 by ATO.com
When we use a conventional contactor to control the rotation of a 3-phase motor, we usually need to exchange two of the three terminals to reverse the rotation.The output shaft rotates clockwise when L1, L2 & L3 are connected to U, V, W.
Now exchange L3 and L2, connect L3 to V, L2 to W with L1 unchanged, then the motor starts rotating in the opposite direction.
It seems a bit inconvenient and time-wasting, isn't it?
To save the trouble of exchanging phases, it's advisable to use a forward reverse switch
Shown here is the model KO3-30. It operates at 380V and 12A with rated power 5.5kW, and can withstand the highest current of 30A without being overheated.
Then, let's take a look at its appearance and inner structure.
Four mounting holes are arranged at the corners of the bottom.
This is the switch handle and there are three labels below that indicate each switching state.
This terminal is used for ground connection.
These two holes are designed for wires connection.
Let's take a look at the inner circuit.
Remove the screw on the inner cover. As you can see, there are three rows of terminals; this row is for reversing rotation and the middle row is for connecting power supply.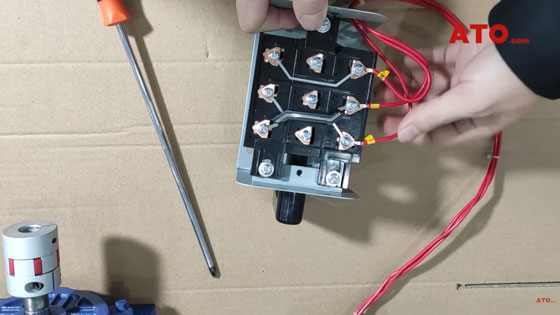 Connecting these two rows of terminals will be enough to reverse rotation.
We'll show you how it fulfills its function by doing a test.
We're gonna connect a power phase converter and a 0.75kW, 380V three-phase induction motor to the reverse switch.
Remove the metal housing and unscrew the plastic inner cover. And remove two rubber hole covers for the convenience of wiring.
Let the power lines (U, V & W) go through the hole and connect them in sequence to the T terminals, and tighten them down securely.
Connect the three lines (L1, L2 & L3) from the converter to the middle three L terminals in the same way.
The wiring diagram is given for a better understanding.
Following that, the wiring is finished.
Turn on the power phase converter, and the whole system is ready .
Turn the handle to REV, the motor rotates counter-clockwise.
Then turn the handle to FWD, you can see the motor starts rotating clockwise.
This electrical tool is so easy to use and will certainly bring much convenience to mechanical operation
Check out the related video on our YouTube channel:
If you are looking for the right forward reverse switch, ATO is now in stock for quick delivery. We have 7A to 60A three-phase types for you to choose from.