Butterfly valve, also known as flap valve, is a kind of regulating valve with a simple structure. Butterfly valve can be used for on-off control of low-pressure pipeline medium, which rotates around the valve shaft to achieve opening and closing. Butterfly valves can be used to control the flow of various types of fluids such as air, water, steam, various corrosive media, mud, oil, liquid metal and radioactive media. It mainly plays the role of cutting and throttling on the pipeline. The butterfly valve opening and closing part is a disc-shaped butterfly plate, which rotates around its own axis in the valve body to achieve the purpose of opening and closing or adjustment.
What Type of Butterfly Valve does ATO Provide?


Sanitary Butterfly Valve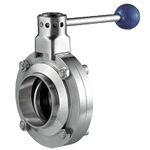 Sanitary butterfly valve with welded end or tri clamp end is constructed from 304 stainless steel and EPDM seat for flow control and throttling. It is a hygienic BF valve with simple structure and purity requirements used in food-processing and chemical industries. A sanitary butterfly valve uses a circular butterfly plate as an opening and closing part and rotates with the valve steam to adjust and control water flow. Its rotation angle is between 0° and 90°. When the rotation reaches 90°, the valve is fully open. When the rotation reaches 0°, the valve is fully closed. ATO offers 1/2, 1, 2, 3, 4, 6 inch high performance SS sanitary butterfly valve for you to choose from. They are high precision at low price, which can be operated automatically by an electric actuator or pneumatic actuator and manually with a stainless steel handle.
Pneumatic Actuated Butterfly Valve


Pneumatic butterfly valve is composed of pneumatic actuator and butterfly valve. Pneumatic butterfly valve is an air actuated valve that uses the circular butterfly plate that rotates with the valve stem to open and close to realize the activation action. Increasing use on medium diameter pipes. The pneumatic butterfly valve has a simple structure, small size, light weight and low cost. It can be installed in high-altitude dark passages. It is controlled and operated by a two-position five-way solenoid valve, and it can also adjust the flow medium. ATO.com provides 2 inch, 2-1/2 inch, 3 inch, 4 inch, 5 inch, 6 inch, 8 inch, 10 inch and 12 inch wafer type and PVC type butterfly valve for you to choose from. They are equipped with double acting pneumatic actuator to work, high performance and reliable. Buy them for flow control now!
Electric Actuated Butterfly Valve


Electric actuated butterfly valve belongs to electrically operated valve. The connection methods of it mainly include flange type, wafer type and PVC type. The sealing forms of electric actuated butterfly valve mainly include rubber seal and metal seal. The electric butterfly valve controls the opening and closing of the butterfly valve through the power signal. This product can be used as a shut-off valve, control valve and check valve for piping systems. With a manual control device, in the event of a power failure, manual operation can be temporarily used without affecting the use. At ATO.com, you could choose small port size from large port size butterfly valve for your application, including 2 inch, 2-1/2 inch, 3 inch, 4 inch, 5 inch, 6 inch, 8 inch, 10 inch, 12 inch, 14 inch and 16 inch port size, they all at factory price and work at 110V AC, 220V AC, 380V AC, 24V DC power supply. Our electrically operated butterfly valve can control water, air, gas, oil and other liquid at -10 °C to 120 °C working temperature.
Butterfly Valve Features


The butterfly valve can be used to cut off, connect and adjust the medium in the pipeline. It has the characteristics of good fluid control and closing sealing.
Butterfly valve can transport mud, with the least amount of liquid accumulated at the pipe mouth. At low pressure, a good seal can be achieved. It has good adjustment performance.
The streamlined design of the butterfly plate makes the loss of fluid resistance small. In this end, it can be described as an energy-saving product.
The valve stem is a through-rod structure, which has been quenched and tempered, and has good comprehensive mechanical properties, corrosion resistance and scratch resistance. When the butterfly valve is opened and closed, the valve stem only rotates and does not move up and down. The packing of the valve stem is not easy to be damaged, and the sealing is reliable. The butterfly valve is fixed by the taper pin of the butterfly plate, and the overhanging end is designed to prevent the valve stem from breaking out when the connection between the valve stem and the butterfly plate is accidentally broken.
The connection methods include clip connection, butt welding connection and lug-to-clip connection.
The drive forms include manual, worm gear drive, electric, pneumatic, hydraulic, electro-hydraulic linkage and other actuators, which can realize remote control and automatic operation.