ATO customized single phase, 3 phase, split phase isolation transformers for sales. They come with IP24 enclosure that are of superior quality and safety for indoor use. The power rating range from 800 VA to 300 kVA, available in the circuit of AC 50Hz/60Hz and voltage less than 1000V. They can work as step-up transformers or step-down transformers, voltage convert single phase to single phase, three phase to three phase, provide increased reliability, higher efficiency. Input/output voltage, power rating and whether with shell of all isolation transformers, can be customized according to your requirements. Buy a low cost isolation ransformer from ATO now.
Isolation transformer is the device which transform alternating current (AC) electrical power from primary to secondary side, makes it ideal for use in the electrical and the engineering industries. The AC power supply voltage we usually use is connected to the ground with one wire, and there is a potential difference of 220V between the other wire and the ground. If human contact it, it can cause electric shock. The secondary winding of the isolation transformer is not connected to the ground, and there is no potential difference between any two lines of it and the ground. People will not get electric shock when they touch any line, so it is safer.
The output end of the step up & step down isolation transformer is completely "open circuit" isolated from the input end, which effectively plays a good filtering role on the input end of the transformer (power supply voltage supplied by the grid). Thus, a pure power supply voltage is provided to the electrical equipment. Isolation transformers are safe power supplies, generally used for machine repair and maintenance, and play the role of protection, lightning protection, and filtering.
Step-up & Step-down Isolation Transformers Advantages
High safety, human touching not causing the risk of electric shock
The reliability of step-up & step-down isolation transformers relies on their safety performance, which is relatively high, even if the human touching the power supply will not cause the risk of electric shock. Thus its safety performance is an outstanding feature worthy of praise.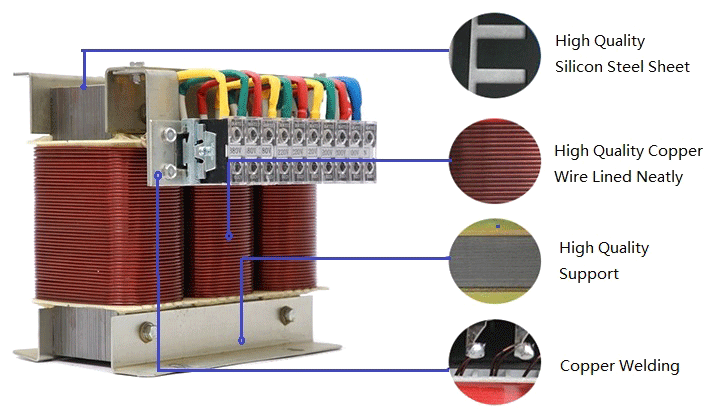 Preventing electronic devices from polluting the power grid
The durable isolation transformer is a stable product. The isolation transformer is very commendable in reducing environmental pollution, especially reducing the pollution of electronic components to the power grid. In the era of air quality, such non-polluting products are very popular and important.
Anti-interference
The well-known isolation transformer has a good anti-interference function. The step-up & step-down isolation transformer is very prominent in preventing interference. Now the external interference is quite a lot. If the isolation transformer does not have a good performance in preventing interference, then it will be bound to be eliminated.
Single Phase vs. 3-Phase Isolation Transformer
Because of its simple structure and small size, the single-phase isolation transformer is suitable for low-voltage distribution networks with a small load density. Different from the single-phase isolation transformer in structure, the three-phase isolation transformer is more complex, so it is now widely used in printing and packaging, petrochemical industry, schools, shopping malls, elevators, post and telecommunications communications and a variety of industrial automation equipment and other occasions requiring normal voltage guarantee. Moreover, the three-phase isolation transformer with high quality can relieve the disturbance of the common mode and other central lines of the power grid to effectively avoid the interference and noise caused by the high-frequency pulse coupling inside the transformer, and well adapt to various complex application environments.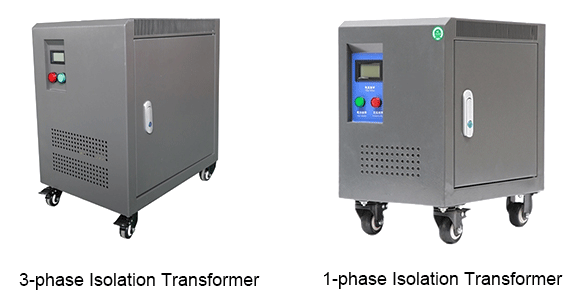 240V to 120V Single Phase Isolation Transformer Overview
Isolation transformers are safe for power supplies and are generally used for machine repair and maintenance to protect, prevent lightning, and filter. ATO 240V/230V to 120V/110V single-phase isolation transformers are used in 115V motors. Click the video below for 1 phase isolation transformer overview and testing.