What Are the Types of Jack?
Sun, Sep 17 by ATO.com
Jack is the simplest lifting equipment with a small lifting height (less than 1m). It has two types: mechanical and hydraulic. There are two types of mechanical jacks: rack type and screw type. Due to their small lifting capacity, they are laborious to operate and are generally only used for mechanical maintenance work and are not applicable during bridge repair. Hydraulic jacks have a compact structure, stable operation, and self-locking function, making them widely used. Its disadvantages are limited lifting height and slow lifting speed. Jacks are mainly used in factories, mines, transportation and other departments as vehicle repairs and other lifting and support work. Its structure is lightweight, sturdy, flexible and reliable, and can be carried and operated by one person. As a widely used tool, the jack is cast with the highest quality materials, ensuring the quality and service life of the jack. Today, ATO industrial automation will introduce the basic classification of jacks.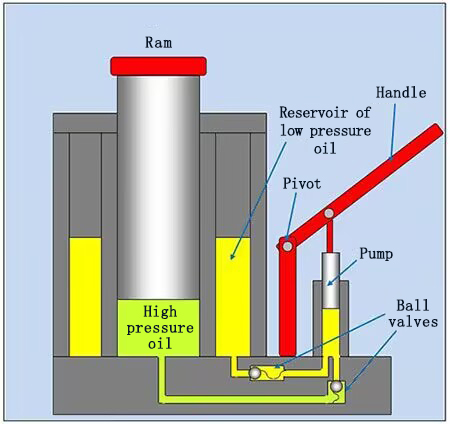 Jacks are divided into screw jacks (mechanical jacks) and hydraulic jacks according to their structure.
Screw Jack
It is manually driven by a screw pair, and the screw or nut sleeve is used as the lifting component. Ordinary screw jacks rely on thread self-locking to support heavy objects, with a simple structure but low transmission efficiency and slow return. The thread of the self-lowering screw jack has no self-locking effect, but is equipped with a brake. By releasing the brake, the heavy object can quickly descend on its own and shorten the return time, but this type of jack has a more complex structure. The screw jack can support heavy objects for a long time, with a maximum lifting capacity of 100 tons, and is widely used. After installing a horizontal screw on the lower part, it can also cause the heavy object to move horizontally for a small distance.
Hydraulic Jack
A hydraulic pump driven by human or electric power, transmitted through a hydraulic system, using a cylinder block or piston as the lifting component. The most basic principle on which hydraulic transmission is based is the Pascal principle, which means that the pressure of the liquid is consistent everywhere. Hydraulic jacks can be divided into integral and separated types. The integrated pump is integrated with the hydraulic cylinder; The separated pump is separated from the hydraulic cylinder and connected with a high-pressure hose in the middle. The hydraulic jack has a compact structure and can smoothly lift heavy objects, with a maximum lifting capacity of 1000 tons and a travel distance of 1 meter. It has high transmission efficiency and is widely used; But it is prone to oil leakage and is not suitable for long-term support of heavy objects. If self-locking jacks are required for long-term support, screw jacks and hydraulic jacks can be made into multi-stage telescopic jacks to further reduce the overall height or increase the lifting distance. In addition to the basic types mentioned above, hydraulic jacks can be modified into sliding formwork jacks, hydraulic lifting platforms, tensioning machines, etc. according to the same principle, and can be used in various special construction occasions.

Jacks can be classified in other ways: toe jacks, floor jacks, electric jacks, etc.
Toe jack
A toe jack is a light and small lifting device that uses a rigid lifting component as a working device to lift heavy objects within a small range through a top bracket or bottom bracket. This jack is used when the general jack cannot match the height of the lifting object. The rocker can rotate 270 degrees and will automatically return oil when reaching the height limit. When you use it, please use a pipe handle to tighten the hydraulic valve bolts first, and then move the manual pump up and down. The toe jack can be raised and if you want to lower it, please slowly loosen the hydraulic valve bolts to lower it, as this jack cannot automatically lower without gravity. The weight of the top load is twice that of the claw load. If height permits, try to use the upper position as much as possible.
Floor jack
A floor jack is an important hydraulic component widely used to support the self-weight and adjust the level of equipment on heavy-duty vehicles or mobile equipment. It is mainly used for vehicle repair and other lifting and support work in factories, mines, transportation and other departments. Horizontal jacks are essential lifting equipment for various types of car repairs, replacing the original trenches and trenches. They are safe to use and easy to move. The main feature of a horizontal jack is its low chassis, which is lying flat on the ground as a whole. It can always maintain a relatively safe distance during the lifting process, which is mainly distinguished from a vertical jack.
Electric jack
Electric jack, also known as electric hydraulic jack, is a combination of hydraulic cylinder and electric pump station, which can achieve various forms of operations such as pushing, pulling, and squeezing. There is a pressure retaining device inside to prevent overpressure. If overpressure occurs, the jack will not return to a certain position. The special structure can provide dual protection for the jack. After installing a diving device at the bottom, it can achieve the goal of low altitude and high stroke.