AC Servo Motor for Fully Automatic Terminal Crimping Machine
Fri, Sep 29 by ATO.com
Fully automatic terminal crimping machine is kind of electromechanical integration machinery which integrates the three major processing procedures of the end of wiring harness, namely, cutting off, flaying and terminal crimping, and it is featured with processing efficiency, high precision, safety, reliability and little noise. Fully automatic terminal crimping machine will process a harness in an average speed of less than 1s and its flaying precision can reach to as high as 0.01ms. To meet the requirement, executive motor plays an important role. Due to its advantages, AC servo motor has become a first choice of most fully automatic terminal crimping machine as system executive motors.
Ⅰ. Composition of the control system

Composition of the control system is as shown in figure 1. Fully automatic terminal crimping machine can process the two terminals of wiring harness at the same time, which is called front-end processing and back-end processing respectively. Since processing flows of the two terminals are similar, the essay would illustrate by taking front-end processing as an example (executive motor of front-end processing is number 1 and 2 servo motors; rotation will be finished by number 1 servo motor and carrying clamp is fixed in number 2 servo motor).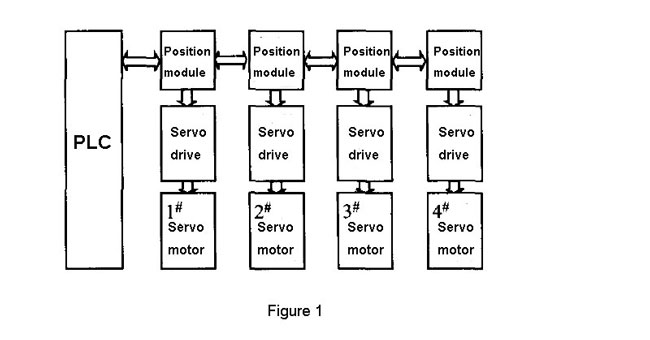 Front-end processing procedures are as follows:
After cutting off wire harness, carrying clamp will back up a distance and rotate 12 degrees to the flaying platform; then, servo motor will move forward carrying clamp according to the preset length of flaying.
After flaying blades enter into wire harness, carrying clamp will back up to flay.
Rotate 45 degrees to the crimping platform and pass through the flaying checkout machine in the position of 20 degrees. After confirming and detecting core wires, carrying clamp will move forward to the preset crimping position.
After finishing the crimping, return to the original position (feed line).
Carrying clamp will start and wire feeding roller will provide wires with a preset length.
Ⅱ. Composition and advantages of the AC servo system

AC servo system is mainly constituted by power supply, sensor, integrated upper computer, servo motor, drive-control circuit touch screen, data bus, and drive-control circuit. Its system composition and properties have many advantages:
Have the RS-232 and RS-422 series communication function. Installation of personal computers with servo software can realize parameter setting, trial operation, status display and gain control.
Supporting servo motor encoder adopts 131 072 pulse/roll absolute position encoder and CPU with a high efficiency, which can greatly improve responsibility of products.
Different series servo motors can meet different control requirements and encoders in motors can support ABS. An absolute position system can be constituted only by adding batteries in servo amplifiers.
More convenient in usage, have excellent automatic tuning performance and mechanical analysis function, suppress mechanical vibration easily, enhance search function and find out optimum gain value automatically.
After finishing origin regression setting, origin regression setting is not needed for normal operation even though there is alarm. Motors have the characteristic of ultra low inertia, thus it is especially suitable for high frequency operation.
Ⅲ. Application of fully automatic terminal crimping machine in AC servo motor
Parameter setting
Parameters that servo amplifiers should set mainly include pulse mode, acceleration time and electronic gear. The process of using positioning module to control servo motor should make sure setting of pulse mode should be in line with the pulse mode which is applied by positioning modules for fear of mistakes.
Selection of positioning modules and programmable controller
For positioning modules needed by position control of servo motor, each 1PG can use pulse provided by drive amplifiers in servo motors to finish accurate positioning of an independent axis. Programmable logic controller (PLC) of servo amplifiers is a small controller and its main functions include:
a. Output and input extension devices can connect with output input extension devices of positioning modules.
b. Output and input points that PLC devices can directly connect with can reach to 256 points.
c. It can realize RUN/STOP remote operation, thus greatly promoting convenience of program debugging.
d. Memory of built-in RAM is 64K.
e. Positioning control commands are rich and can realize accurate positioning of three independent axis at the same time.
AC servo motor has many advantages like high stability, small vibration and high precision. With the development of industrial control technology, electronics technology and electric power technology, AC servo motor has a sound development and gradually replaces DC motor to become a major servo drive mode of modern numerical control. Application of AC servo motor in harness processing of fully automatic terminal crimping machine can improve processing efficiency and precision efficiently and the industrial application is very strong.