How to Control VFD Frequency with a Speed Potentiometer?
Fri, Feb 25 by ATO.com
In a previous blog, we talked about how to use the external terminals to control the direction, start and stop of the VFD. However we found a problem, that is, the speed regulation of the VFD still needs to use the VFD control panel, so this time we will tell you how to use the external potentiometer to adjust the speed of the ATO variable frequency drive.
These five ports that need to be used are 10V, GND, VI, COM, and FWD. And we also need to use a speed potentiometer and a self-locking normally open button switch.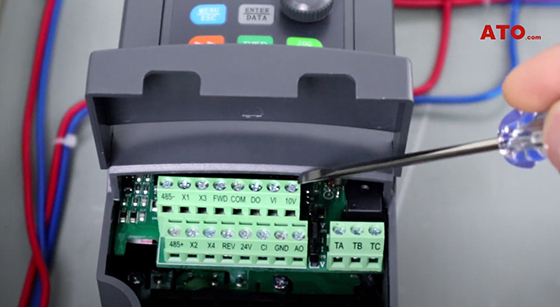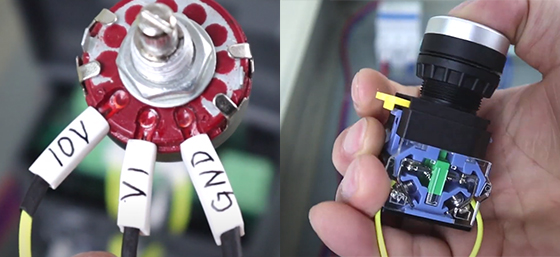 Step 1: Wiring
Connect the 10V, GND and VI on the potentiometer to the VFD, and the button switch to the FWD and COM.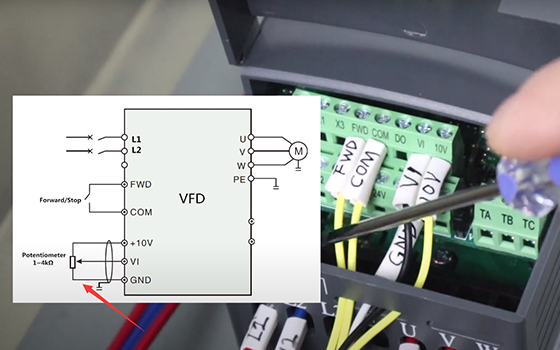 The electrical principle of the whole system is shown below.
Step 2: Set VFD
After the hardware wiring is completed, we need to start the VFD and set the three parameter groups of P0, P1, and P7.
P0.01=5, control mode selection (VI analog given).
P0.03=1, running command mode selection (Terminal control mode).
P1.00, analog filtering time constant (When the cable is too long, you can adjust this parameter appropriately).
P1.01=1, VI channel gains (Adjusting this parameter can change the width of the potentiometer control frequency).
P1.02 =0, VI min given.
P1.03=0, corresponding freq. to VI min given.
P1.04 =10V, VI max given.
P1.05=50Hz, corresponding freq. (≤P0.06).
P7.00=0, close loop running control selection (Invalid).
P7.01=1, close loop given channel selection (VI analog 0~10V voltage given).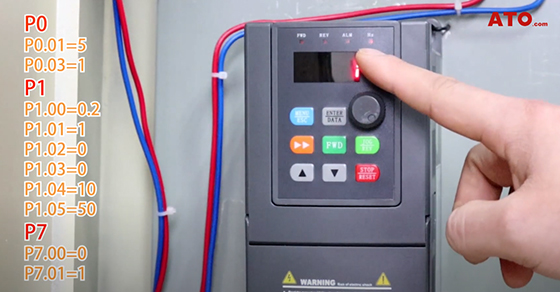 Step 3: Debug potentiometer
After setting, debug the potentiometer and observe the panel. If the frequency changes, it means the setting is correct. If there is no change, please check the circuit or parameter settings. Confirm that it is correct and still cannot change the frequency, please set P3.01=10 (restore to factory settings).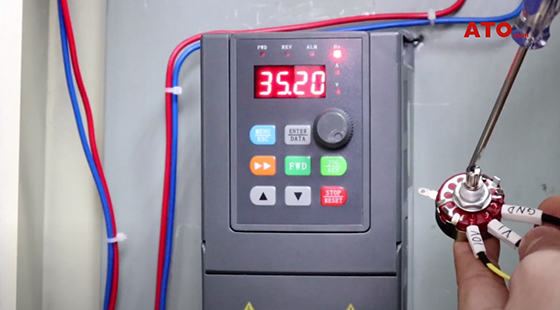 Step 4: Start button switch
After everything is ready, press the start button switch, when the VFD panel FWD light is on, and the motor starts to run normally when the potentiometer is turned.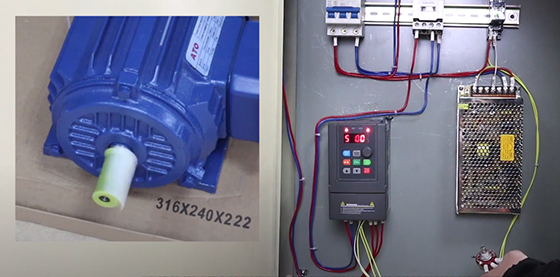 How to do frequency modulation of the VFD without a host computer? We can reference above method to use the potentiometer to adjust the motor operating frequency without being close to the VFD. This method allows for FM at a distance of 15 meters from the VFD. If reverse rotation is required, connect COM to REV.
For more details about how to control VFD frequency with a speed potentiometer, please watch YouTube video below.