Laser Welding Machine for Flat Plate Solar Collectors
Tue, Jan 15 by ATO.com
Abstract: Solar collector Laser welding system, welding speed 3.5min/pc.

1. Basics
1.1 Comparison between laser welding and ultrasonic welding
Disadvantage of ultrasonic welding
Ultrasonic welding is the use of high frequency vibration wave transmitted to the two surfaces to be welded, in the case of pressure, the friction between the two surfaces forming the fusion molecule layer.
After extrusion welding material becomes very weak, a significant reduction in material strength, easy to break.
Advantage of laser welding
Laser welding is the way to focus high energy density to the joint position of 2 welding pieces, fuse 2 welding pieces instantly, Molecules rearrange the combination, achieve the high welding strength. Laser welding is non-contact welding, no deformation and less heat area.
1.2 Flat solar collector Laser welding system characteristics
2 work stations of the system, uploading and downloading workpiece over one meanwhile welding over the other one.
2 output head.
Welding speed: 4800mm/min=2400mm/min*2 output laser beam.
Weld strength: Endure 1.3MPa Water pressure within copper tube for 5 minutes.
Autocorrection on copper tube position range: 2mm.
Lifetime: More than 7 years if work 20 hours a day.
1.3 Weldment: Solar collectors specification
PART1
PART2
Description:
Plate
Description:
Tube
Material:
Aluminum
Material:
Cooper/Aluminum
Thickness:
0.35-0.5mm
Thickness:
0.45-0.7mm
Max size:
3000mm*1000mm
Max size:
6-12.5mm
1.4 Parameters of laser machine were used for the welded connection
Distance of 2 impulse welding point is adjustable from 2.00mm to 15mm.
Welding point diameter: 0.75-1.2mm.
2. Configuration
Laser machine (Main)
2pcs
Fiber input and output system
Laser output head
CCD display system
Laser machine (Accessory)
2pcs
Chiller
CNC Worktable
1pcs
Worktable
Control system
3. Layout: Floor space requires 13600mm*8000mm

4. The CNC worktable configuration
4.1 Enable enough length of solar collectors with big worktable
Self-developed models, the main rack made of high quality steel, computer gray appearance of the coating, the seal plate made of high quality Q235A steel plate, countertops flatness is± 0.06mm, Dimensions: (L*W*H): 11500*2800*1600 (mm).

4.2 Both cross tubes and straight tubes can be welded
Dual workstation, dual output head , 4D worktable, the output head can automatically rotate, suitable for solar collectors lateral, longitudinal welding, X, Y axis adopt servo drives, high precision ball screw and ball rail drive,  X axis stroke 3000mm, Y axis stroke 1100mm, repeatly positioning accuracy±0.05mm; laser output head rotate automatically.

4.3 φ12 φ10 andφ8 tube clamping roller(specialized jig and fixture system) are available
Spacing distance of tubes turn left and right according to actual requirements, the laser head equipped with rollers (rollers run over tube during welding), ensure tube stick to plate tightly and welding well.

4.4 High stability of box structure and beams
Box structure base and beams using precision casting Aluminium alloy work platform, with annealing aging and vibration aging etc. eliminating stress process test.

4.5 Industrial PC control
Array point welding and  straight line trajectory welding, welding trajectory are decided by CNC programming or teaching programming, welding process automation, welding procedures can be modified, you can set the operation and modify permissions.

4.6 Adjustable focal length
Laser output head can go up and down to adjust focal length, standard configuration 17-inch monitor.

5. Worktable working procedure chart
5.1 To prepare for clamping at A workstation.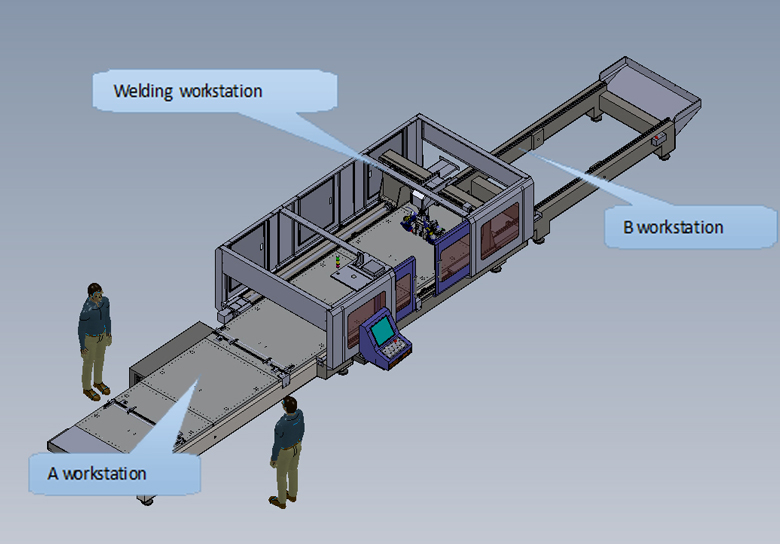 5.2 Accomplish clamping at A workstation.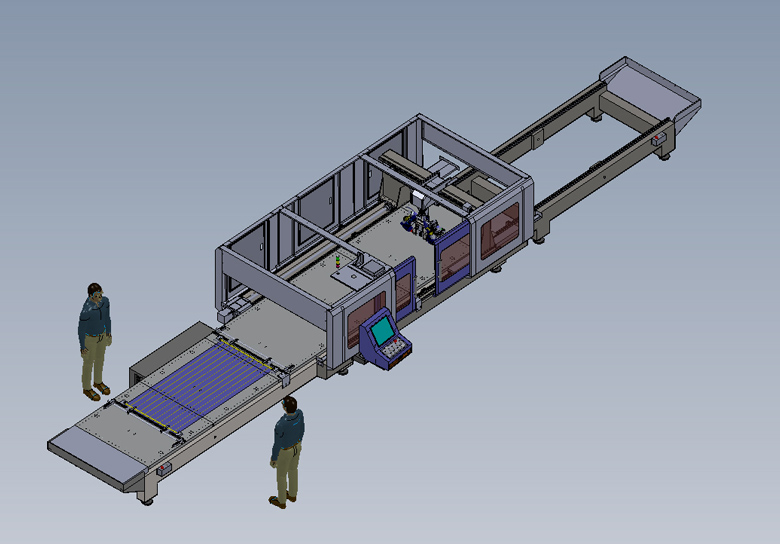 5.3 The A workstation product is delivered to welding workstation and is welded over there. At the same time, the operators can do clamping over B workstation.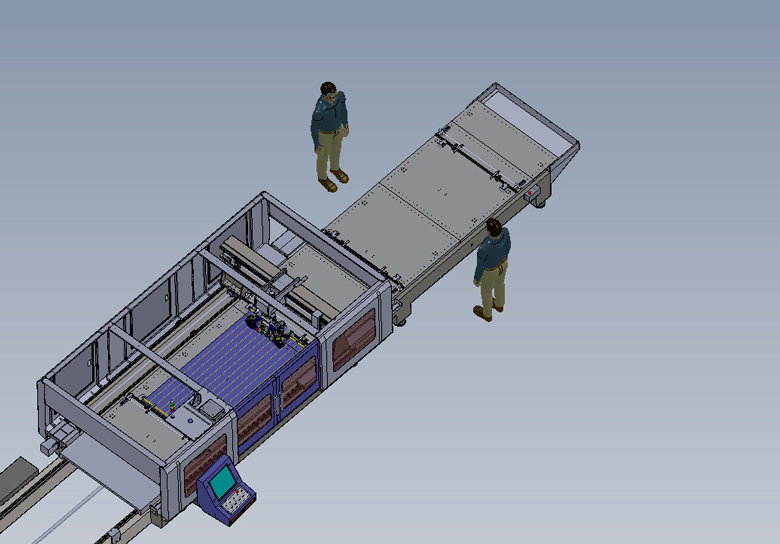 5.4 Accomplish clamping at B workstation, the B workstation product will be delivered to welding workstation after the A workstation product has been welded well and return to A workstation.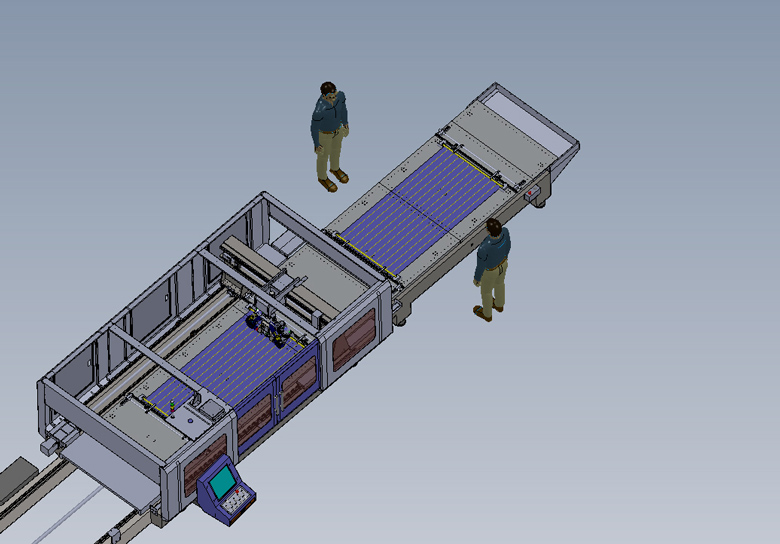 5.5 Welding B workstation product while clamping at A workstation. Then Repeat step1 to step5.
6. Welding efficiency
Welding efficiency: f=W/E
f: The number of laser welding machine work per sec.
W: Average output power of laser welding machine.
E: Energy for single pulse welding.
Single point is about 15J, take the distance between 2 welding spot as 5mm, then welding length per minutes for each laser welding machine is: L=5*8*60=2.4 m (W=300*80%=240, f=240/30=8).
The welding speed of whole system is 4.8m/min.