5 Frequency Control Methods for VFD
Mon, May 16 by ATO.com
A variable-frequency drive (VFD) is a type of motor drive used in electro-mechanical drive systems to control AC motor speed and torque by varying motor input frequency and, depending on topology, to control associated voltage or current variation. VFDs can be used to control AC motor speeds by changing the motor's frequency without sacrificing the output power of the motor. This is done by turning the speed pot (explained in section three) of an AC motor drive.
Five major frequency control methods will be able to choose which is best for their application.
Button control
Analog control
Potentiometer control
Modbus-RTU control
DTU wireless remote control
Button control
Use the switch button signal to directly control the start and stop of the 3-phase VFD (the VFD start frequency is fixed), and the multi-speed control method can beused to activate the speed of each section of the VFD.
Button to Start & stop VFD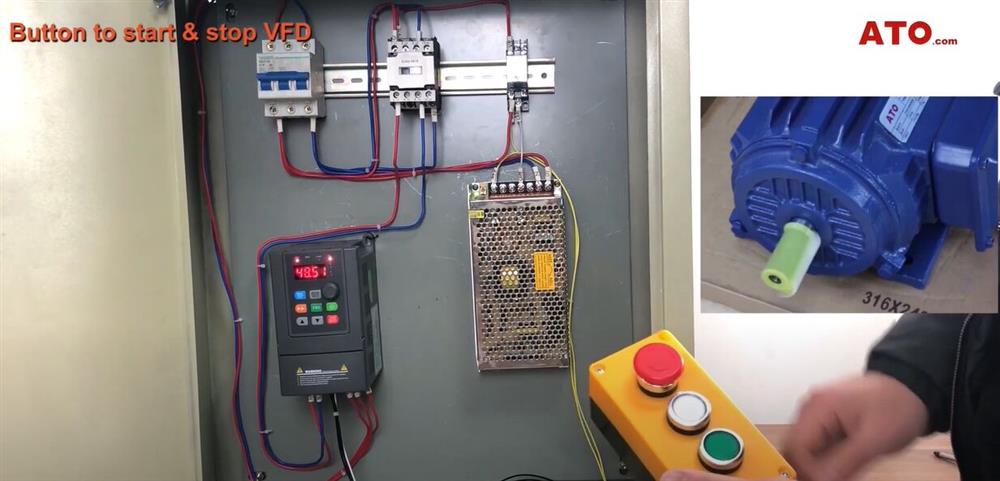 Press the white button and the motor starts to rotate clockwise. The red button stops the motor rotation.
Button multi-speed control VFD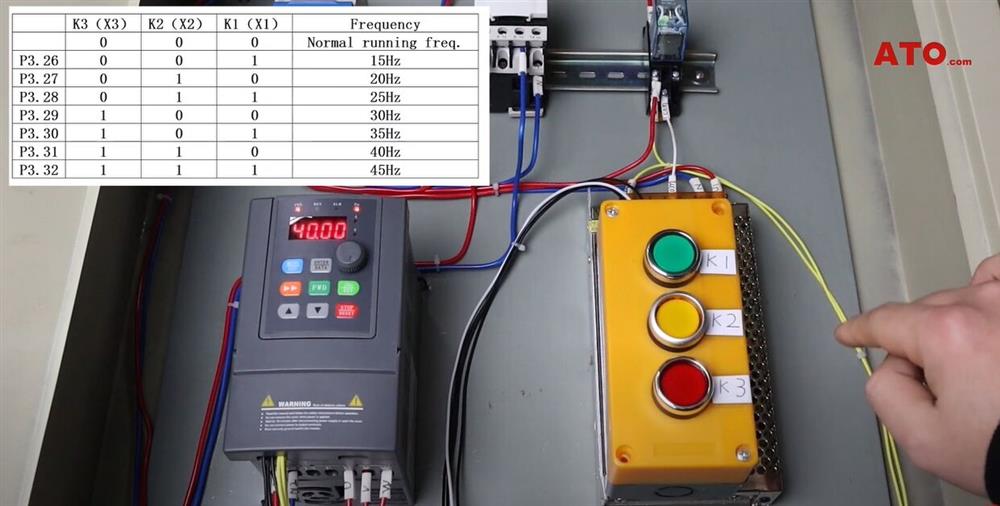 Button K1, K2, K3 all can rotate the VFD.
Analog control
Using 5V or 4~20mA to control the frequency of the VFD, and at the same time which can control the start and stop of the VFD in cooperation with the switch.
Set jumper at JP3 to I, input 4mA analog current to the VFD, and VFD frequency is 0 Hz.
Increasing the VFD input current, the outout freauencv becomes larae and the motor speed becomes fast.
When the input reaches 20mA, the VFD output frequency is 50 Hz at the maximum.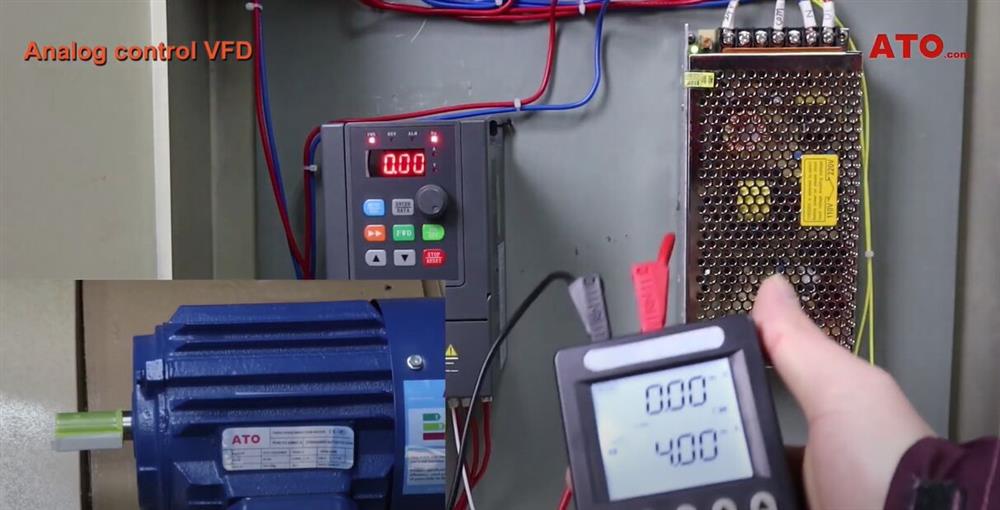 PLC annalog output module
Wiring the PLC, VFD and digital screen, when you enter 30, then press "RUN", it will rotate at 30.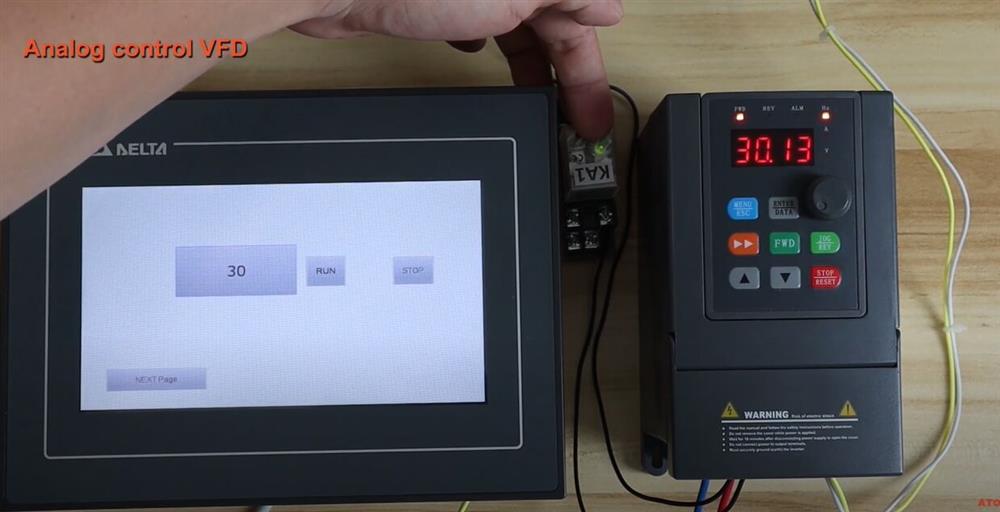 Potentiometer control
The VFD has its own potentiometer input terminal, and the VFD is directlycontrolled by the potentiometer.
This is the sign on the potentiometer, 10V and GND on the side, on the left is the schematic diagram of wiring.
The 120V, GND and VI are connected to the VFD. Self-locking switch is connected to FWD and COM.
You can now press the start switch, the FWD light on the panel is on. Rotate the potentiometer and the motor starts to run normally.
Modbus-RTU control
Using RS485 interface to transmit data with Modbus-RTU protocol, whichcan monitor VFD, modify frequency, start and stop, etc.
Modbus-RTU control VFD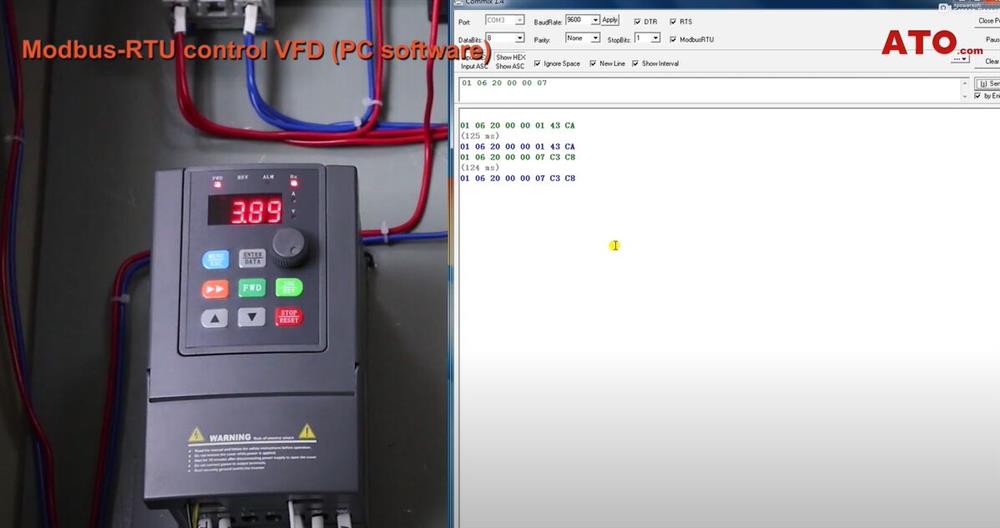 Run the PC software, 01 06 20 00 01 43 CA. (125ms). The motor start running. 01 06 20 00 00 07 C3 CB (124mS).
DTU wireless remote control
Combine DTU terminal and VFD for wireless transmission (DTU output analog quantity to control VFD frequency).
Run the simulated software, 01 06 00 41 21 10 C3 E2. (10mA), send. The motor start running. 01 06 00 41 5D C0 E1 1E (24mA Max), send it again.
See more information about frequency control VFD below the video.