How to Setup Fiber Optic Sensor?
Tue, Feb 15 by ATO.com
Fiber optic sensor is a new all-optical amplifier used in fiber optic communication line to achieve signal amplification. It is divided into communication supplies and industrial supplies, here we refer to the industrial fiber optic sensor.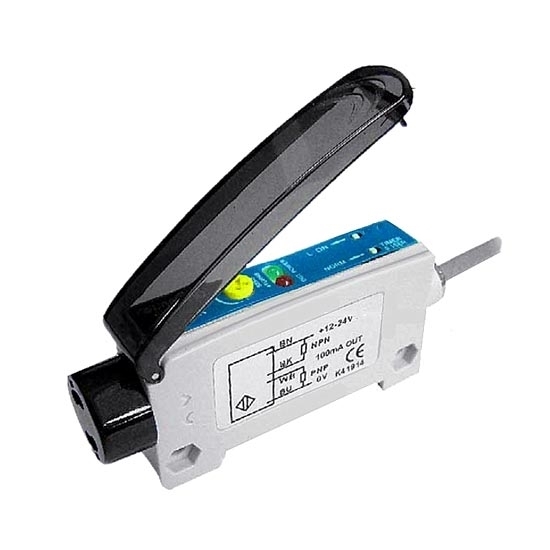 Fiber optic amplifier can be used as a type of beam or diffuse sensor. The combination of fiber amplifiers and fiber sensing can meet the induction requirements of complex and variable industrial automation systems. Optical fiber can be easily integrated in space limited places to solve the problem of difficult signal collection; Fiber optic sensor can process signals with high precision and convert different information to output to automatic systems.
In general, this system not only the ability to collect data, but also the ability to analyze data, is increasingly used in the field of industrial automation. ATO-FIBOS is used as an example to explain how to set up and use optical fiber sensor.
Material:
Two power lines: brown (24V), blue (0V); black signal wire; fiber core (you can buy them according to your own needs), it comes with an optical fiber bundle jacket and a fixed pedestal.
Connect brown wire and blue wire to DC 24V switching power supply; connect black wire to relay 0V. After fiber optic is powered on, LED displays the current light intensity is 0. We can see there are two holes outside the shell, one is transmitter (T) used to transmit light and the other is receiver (R) used to receive light.
For example, we set when the light intensity becomes 55 the fiber optic sensor will send trigger signal.
First, put the detected object in the farthest place, LED displays the received light intensity 0, press SET key. Then move the detected object to the place close to the transmitter. When LED displays the received light intensity is about double of 55, press SET key again. The fiber optic sensor will automatically calculate the trigger light intensity and display 55.
Modify setting value by △ and ▽. Fiber optic sensor has an output signal selection switch to choose DARK-ON or LIGHT-ON. Long press MODE for 3 seconds, enter power mode setting. (FINE: When detecting a minute difference in a short detecting distance. TURBO: When the detecting distance of FINE mode is insufficient. SUPER: When the environment is hostile, such as dusty.) Press MODE key again to enter into timer mode selection.
You can watch video below to know more details about fiber optic sensor setting instructions.