How to Run a Single Phase VFD with a Push Button Switch?
Thu, Apr 14 by ATO.com
What is a push button switch?
Push button switch, also known as control button (referred to as button), is a low-voltage electrical appliance that is manually and generally reset automatically.  Push botton switchs are usually used to issue start or stop commands in circuits to control the on and off of electrical coil currents such as electromagnetic starters, contactors, and relays.
A push-button switch is an electrical appliance that is used to connect and disconnect small current circuits that is pressed to act and released to reset. It  is generally used in control circuits with AC and DC voltages below 440V and currents less than 5A. Generally, it does not directly manipulate the main  circuit, but can also be used in interconnecting circuits.
How to run a VFD with a push button switch?
We need to use three ports: FWD, X1, COM.
SB1 (self-reset buton) uses NO contact SB2 (self-locking buton) Is NC contact.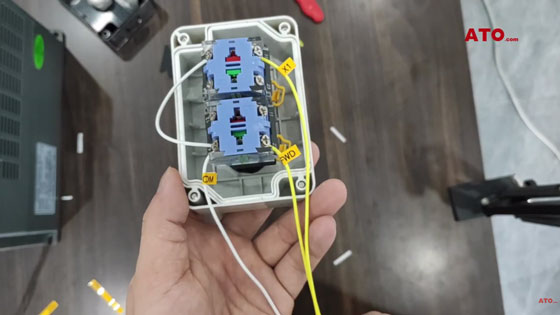 Visible through the plastic board, thered button is the NC contact, and the green is NO.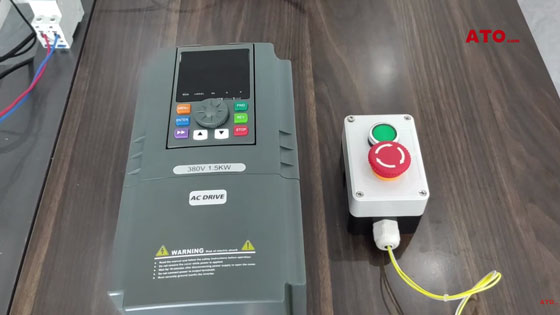 The wiring is complete.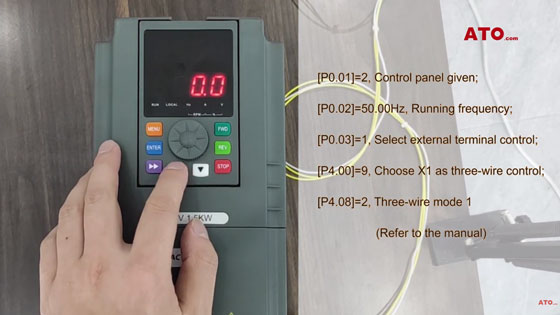 Setting parameters
[P0.01]=2, Control panel given
[P0.02]=50.00Hz, Running frequency
[P0.03]=1, Select external terminal control
[P4.00]=9, Choose X1 as three-wire control
[P4.08]=2, Three-wire mode 1
Press the Green Button and the motor starts to rotate.
Press the Red Button to stop the motor.
ATO offers you a variety of push button switches, momentary pushbutton switches, emergency pushbutton switches and normally open normally closed pushbutton switches. For more details on using pushbutton switches, see the video on: