What Is a Toroidal Transformer Used For?
Sun, Apr 24 by ATO.com
Toroidal Transformer Features
The high-efficiency iron core has no air gap, and the stacking factor can be as high as 95%.
The vibration noise is small. The iron core has no air gap, which can reduce the noise of the induced vibration of the iron core.
The winding evenly and tightly wraps the annular iron core, which effectively reduces the "hum" sound caused by magnetostriction.
Low operating temperature Because the iron loss can reach 1.1W/kg, the iron loss is very small, the temperature rise of the iron core is low, and the windings are well dissipated on the iron core with a lower temperature, so the temperature rise of the transformer is low.
Easy to install The toroidal transformer has only one mounting screw in the center, making it especially easy to quickly install and remove in electronic equipment.
Toroidal transformer application field
Toroidal transformer is a large type of electronic transformer and has been widely used in home appliances and other electronic equipment with high technical requirements. Its main use is as a power transformer and an isolation transformer.Toroidal transformers have been widely used in electronic equipment with high technical requirements such as computers, medical equipment, telecommunications, and instruments.
Application case: toroidal transformer for 220V/110V voltage converter
This is ATO 500VA 220V to 110V voltage converter.


Switch the input voltage to 220V mode.

Prepare a 220V AC power socket.


Connect the input plug to the 220V AC power supply, turn on the power.

The output voltage is 116V AC (110V voltage normal range).

Remove the fixing screws and look inside.


The ATO brand toroidal transformer accounts for the largest volume.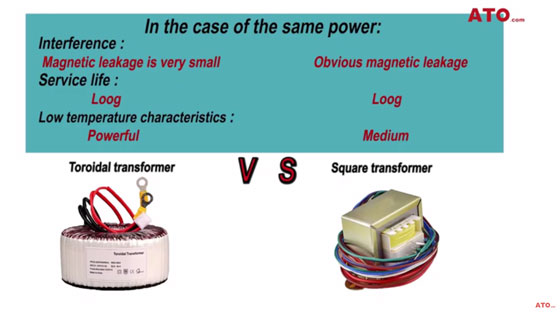 Compared with ordinary transformers, toroidal transformers have great advantages in efficiency, temperature rise, cost, anti-interference, and longevity. ATO toroidal transformer specifications are: 50VA, 70VA, 120VA, 150VA, 200VA, 500VA, 1000VA, 3000VA, input voltage: 110V, 120V, 220V, 240V, output voltage: 12V, 24V, 110V, 120V, etc.
For more detailed toroidal transformer use case video introduction please see: