Why You Should Buy an Industrial Vacuum Cleaner?
Wed, Jun 09 by ATO.com
Industrial production is often accompanied by dust, metal particles, various scraps, and some invisible dust particles that cause air pollution and threaten the health of workers. As green production and environmental protection become mainstream, industrial cleaning equipment is playing an indispensable part in optimizing working environment. What equipment is needed? Industrial vacuum cleaners shall be a good choice. Industrial vacuum cleaners are commonly used to collect wastes, filter and purify air in order to create a comfortable and pleasant environment. And also, it can work as a supporting device in conjunction with other industrial manufacturing equipment for the purpose of removing dust and debris generated during production, guaranteeing the cleanness of working environment and the health of employees.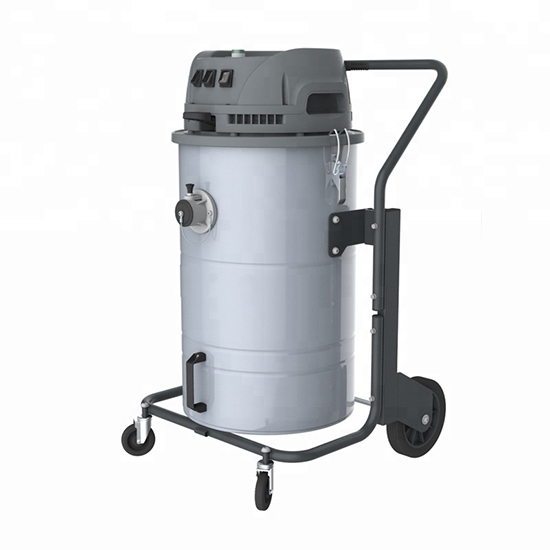 Industrial vacuum cleaners have exclusive characteristics that render them different from commercial and household ones.
Industrial vacuum cleaners are usually equipped with 380V power source which brings performance to a new level. The built-in 380V industrial motor can basically deliver around-the-clock operation while staying sturdy and durable.
Industry-proven performance and efficiency. The independent and powerful motor brings impressed suction of water and dust as suction represents a major technical indicator of industrial vacuum cleaners whose working performance and efficiency depends significantly on suction. The suction efficiency refers to the amount of effective power converted from unit input power with the higher the efficiency, the larger the degree of vacuum and the airflow rate, finally delivering more remarkable removal of dust. You don't need to worry about whatever irritating noise caused by the vacuum cleaner when in operation since the sound produced by this device in working condition would not exceed 70dB.
Industrial vacuum cleaners conduct multi-layer filtration with the utilization of a wide assortment of filter media, structure and methods, for example, HEPA high-efficiency filters (filter efficiency is up to 99.998% when dealing with particles that are 0.1 to 0.3 micron in diameter) or cyclone separators (used for solid-liquid separation). With these reliable accessories, industrial vacuums far surpass commercial and household counterparts in terms of filtration effect.
The container of industrial vacuum cleaners is larger than that of other vacuum cleaners. In addition to that, the container adopts considerate design in which it is easy to move and dump when it comes to removing large quantities of garbage and dirt. Alternatively, you can add garbage bins or recycling bins as needed so as to deal with recycling once and for all. Among these recycling components, the most commonly-used one is proximitors which can enlarge garbage collection capacity and separate recovered substances of different composition, thus complementing industrial vacuum cleaners.
Industrial vacuum cleaners can handle any obsolete matters regardless of their composition and shape. The matters that can be collected by industrial vacuums include a variety of non-metals or metals, particulate dirt, oil, water and other liquid mixtures as well as high-cost catalysts used in chemical industry. Moreover, industrial vacuums are useful for absorbing hazardous and toxic fumes to secure workplace safety. Its suction efficiency will reach 99% in dealing with solid particles that are 0.3 microns and above in diameter especially when installed with different filtering mediums such as filter elements (washable and reusable) and dust shields, etc. allowing it to be utilized in fine chemicals, precision machinery and other industries.
The accessories of industrial vacuums are made up of steel, rugged and durable, and are customized in view of actual use. In particular, a set of protection device is added to dust-collecting bags by reason that these bags or filtering bags, as essential components of industrial vacuums, are prone to scratches caused by metals or other sharp objects. To minimize this risk, some industrial vacuums adopt vacuum brushes equipped with electromagnets which are used to attract iron filings, blades, needles, etc. to avoid them getting into the dust bag.
The outer shell and the garbage bin are made up of qualified steel or iron plates. The machine casing can prevent the motor from damage. Dust-collecting buckets are also made of stainless steel which enables them to be rust-proof, anti-corrosion, impact-resistant and endurable, applicable for various working environments. Air filter bags undergo special treatment to prevent stubborn dust from lingering on the bag thus realizing impressive removal of dust and prolonging the service life of air filter bags. Industrial vacuum cleaners are designed for continuous use in that the motor adopts imported pumps with output power up to 380V (220V single-phase motor equipped with an extra carbon brush).
Tips for selecting industrial vacuum cleaners:
Suction
First of all, ask yourself these quesitions. Where exactly the industrial vacuum cleaner will be used? what does it use for? What is the size of those dust particles the vacuum is intended to pick up? These qustions imply that the first thing we should take into consideration when selecting an industrial vacuum is its suction, a key factor that determines the working performance of a vacuum.
Working hours
You should make it clear with operating conditions into account whether the vaccum shall be rated for continuous duty.
Mobility


If simple dust extraction suffices for a particular working environment such as a workbench, ground and the like, a compact-size industrial vacuum is a worthy choice in that it's small in size and easier to move. If the vacuum cleaner should be integrated into production equipment in order to pick up dust during production, then stationary vacuum cleaners are recommended which are less mobile.

Dust collection bag
Be aware when making a purchase whether the selected industrial vacuum is equipped with a dust collection bag or other filtering devices. The best dust collection bag often brings about excellent filtration effect.
Industry-specific application
Industrial vacuum cleaners should be purchased based on their actual application scenarios. For example, stainless-steel type for food processing industry and for welding industry, dedicated vacuums are required to eliminate the heavy smoke induced during operation, and anti-explosion types will be put into full use in petrochemical industry where explosion accidents are prone to happen.
Volume
Select the proper dust collection tank depending on the amount of dust and a front container can be added to enlarge the volume. Classifying different kinds of pollutants into categories can make up for the insufficient volume of the vacuum. Types of 15-30 L in volume are appropriate for offices, and industrial types features volume of 60-80 L, while the volume of 380V powerful types is as large as 80-100 L. The volume for dust collection among industrial vacuums is different considering various demands.
Filters
Choose the right filter according to specific application. For example, anti-corrosion filters are required to deal with corrosive dust; moisture and oily dust will be removed well by water- and oil-proof filters, and PEFT filter cartridges are used specially for clean-up of adhesive dust.
Vibration and dust isolation system
When looking for industrial vacuum cleaners, pay attention to whether the large-voltage type has a vibration-and-dust-isolation system which is able to clean up regularly the dust on the filter in case there is any clogging.